About Us
The mission of the Mandel Jewish Community Center of the Palm Beaches is to build community and enhance connection to Jewish life.
The top priorities of the JCC are:
Connecting families to Jewish life
Healthy living
High-quality Jewish cultural arts
Connecting people to Israel
Reaching out to the broader community
Mandel JCC, Boynton Beach: The Center of the Jewish Community
The Mandel JCC, Boynton Beach is located on Jog Road just north of Gateway with its award-winning preschool and camp at the heart of the facility.
On the Campus:
Jr. Olympic swimming pool
Full-size soccer field & gaga pit
State-of-the-art playgrounds providing hours of fun for children of all ages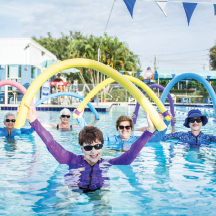 Premier Programming in Your Community:
Palm Beach Jewish Film Festival
Jewish Book Festival and Luncheon
JSwim program with swim lessons and swim team
An award-winning after school program
Children's enrichment classes
Special needs programming
Family programming
E-Newsletter: A monthly newsletter for families in the Northern Palm Beaches
Stay up-to-date on current happenings within the JCC. From arts and culture to family events and summer camp, the e-newsletter has you covered on everything that you need to get involved!
Click here to sign up for our newsletter 
Edward & Thelma Glantz Early Childhood Learning Center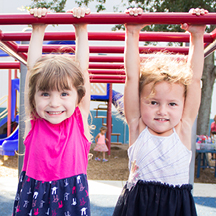 The little faces that grace our doorstep each day are why we are here. The JCC's preschool is based on a forward-thinking and constantly evolving – yet deep-rooted educational philosophy. The program focuses on welcoming children and their families into a quality educational experience based on Jewish values.
Children are encouraged to develop and grow as individuals as well as members of the Jewish community. Classrooms are designed to provoke inquiry, wonder, creativity and intellectual engagement at the earliest age.
Registration is on-going offering classes for children from three months to five-years old. Schedule a tour to see the program for yourself!
Camp Shalom: Where Memories are Made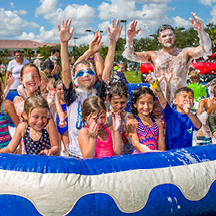 Imagine the possibilities at the Mandel JCC! JCC Camp Shalom has provided an exhilarating, dynamic Jewish camp experience for more than 40 years. The campus will offer campers a full aquatics center, amazing specialty camps, theme days and creative arts.
Specialty week-long camps including cooking, theater and more! Camp Shalom has programs for children in grades K-6, with an additional program for special needs children and teens up to 22-years old.
Special Needs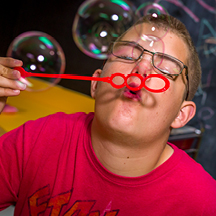 Throughout the summer and all-year-long, the Mandel JCC is the premier Jewish location for special needs children and teens up to age 18. One of most vital programs, our Special Needs program welcomes the entire community and works with children and teens up to 18-years old, as well as with their families.
The program is geared to those with Autism, Asperger's, ADHD, developmental delays and more, and is taught by professionals with experience working with special needs children.
Cultural Arts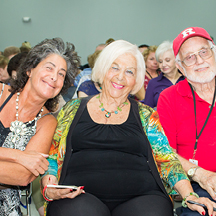 The Mandel JCC's Donald M. Ephraim Palm Beach Jewish Film Festival strives to bring the finest examples of cinema from around the world to South Florida. The chosen films are as diverse as our community. Some focus on Jewish issues, others spotlight Jewish achievement and valor; still others document Jewish culture, arts, and history. Founded in 1990 the festival continues to grow and evolve as we continue to expand our selection of narrative features, short films and documentaries to reflect the tastes and needs of our audience. Now year-round, we continue the process of engaging, entertaining and educating through film events for greater Palm Beach County.
In addition to the Film Festival, the Mandel JCC Book Festival showcases Jewish authors and/ or books of Jewish content. In doing so, the Festival promotes awareness, appreciation and pride in the diversity of the Jewish people; stengthens community consciousness of Jewish identity, history, and culture; and provides a community forum to stimulate dynamic and provocative dialogue.

Learn more here >>
---
For Further Information: 561-740-9000